This is my personal list of favourites from the last year (which is already disappearing over the horizon behind me, so I'd better finish this up before it's mid-December and time to write one for 2011). Admittedly, it's horridly scattered and ill-informed and over-lengthy, but as I had an even number of five that I could think of immediately, it was convenient as well as fun.
5. An Airplane Carried Me To Bed - Sky Sailing
A pretty nothing, perhaps, but a

very

pretty nothing - and I still maintain that Adam Young's creativity and innocent eyes-wide-open-ness is a healthy dose of something Christians should seek to imitate. I know I am biased to say this in two ways: first, by the fact that Adam Young is a Christian himself, and one who writes a blog which is sort of like reading the sort of things I should like to write and can't (no duh - he writes those lyrics, and I couldn't); and secondly, because I grew fond of his songs while I was inundated with cheap country music at my job up in the northern parts of the country and came to enjoy the fixed innocence of Adam's lyrics and style in comparison to the studied tawdriness of most country music. (I am not slamming all country music; I still nurture a soft spot for some of it, and I can tolerate most of the rest. Exposure to much of that latter part in a nonstop dosage for six to eight hours straight is... overdoing it. But I digress.) At any rate, yes, this is the Adam Young of Owl City. I like Owl City, and since this is basically acoustic-Owl-City (more of the singer-songwriter feel than the electricalness), I like it even better, though it doesn't have the zing!song factor of something like

Meteor Shower.

If you hate Owl City, I highly doubt this will change your mind. Still, it's adorable. Yayness.


These continents from overhead
look like tiny paper shapes,
intricately set in place.
Below the misty mountain clouds,
there's a lovely silver bay
where sunset sailors often hide away.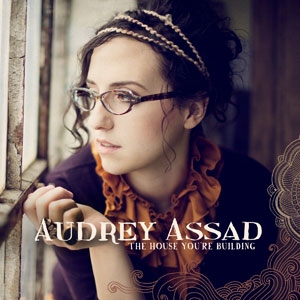 4. The House You're Building - Audrey Assad



This is something of an odd-duck-story. Poor Audrey; I saw her in concert with Tenth Ave in '09, and her act was simply her and a piano. Not having much fondness for pianos as a general rule at the time (they're growing on me, I promise), and since the nature of the act made all the songs seem rather unvaried and dull, I thought: 'Good lyrics. Could never listen to a solid album of that.' and set her aside (shallowness, thy name is Anna). Well, early this last fall iTunes put her up as one of their freebies - a lovely little single called The House You're Building

(the title track)

.

I recognized the name and thought, 'well, hey, it's free!' I downloaded the song - a beautiful, not-just-piano hymn describing God building his church with us, living stones, broken though we are. And then, in an ironic turn of events and phrasing, I was sold. I can say, with all solemnity, that her lyrics are definitely better than the casual 'good,' and her music is not boring. Sweet grace, total dependence on Christ, wrestling with human relationship, simple confession of love and trust - mmm, yes. The final touch of irony? The song I was immediately struck with by its beauty and razor-sharpness was the last - a simple, piano-and-voice melody. Go figure.


Bind up these broken bones.
Mercy, bend and breathe me back to life -
but not before you show me how to die.




(

Nota Bene:

I can't put these remaining three in any definite hierarchy, because I love them all and they all are rich in such different and yet such similar ways. Yes, they're all Christian artists, which isn't something that can be said to make my 'best of' list each yet, but 2010 was extraordinary in that nearly all of my most-squeeworthy-artists released albums that surpassed my highest expectations (which, they being squeeworthy, were very high). I'm not whizzish enough to figure out how to make them rearrange themselves at random every time the page refreshes, so I've contrived what I think anybody could look at and say, 'Oh, she

would

order them that way.' Ta-da!)
3. The Shelter - Jars of Clay
I love these guys. They've been around for fifteen years, and they've been very intentional about

not

playing to the tune of the Christian music industry's 'popular stuff' (ho hum, somewhat familiar with Andrew Peterson there, eh?) - yet somehow everyone knows about them, their musical style has never stagnated, and their lyrics are stunning (did I mention their theology is excellent?). Also, they're very entertaining in concert (grin!). So - let's see: good theology, good lyrics, good music, lack of conformity to popular Christian music... yes, they're definitely likable in

my

book.

What's more, they've contrived an album here that does what it preaches. This is an album about Christians living in community, so they dragged sixty-some people from the Christian music industry to make this project: Brandon Heath, Audrey Assad, Mac Powell, Derek Webb, TobyMac, Burlap to Cashmere, Mike Donehey (!), Dawn Richardson, David Crowder, Amy Grant... The result is lovely: a call for Christian service, but much more than that. No mere cry for social outreach and self-betterment; this is a cry to look to Christ first, who is our head, and then to live as His body. The call goes out repeatedly for believers to turn from their lies and false gods, and turn towards to Christ. I'm sure to quote the whole album if I don't catch myself, so I shall simply mention that it is eminently quotable, and you should find out why for yourself. Seriously: it's a beautiful listen that'll jog you in the stomach toward Christ - and it's only $5 on Amazon for the month of January. There. Shameless, ain't I? (But seriously, for that price - can you argue?)
So, God, bruise the heels we've dug in the ground
that we might move closer to Love.
Pull out the roots we've dug in so deep.
Finish what you've started.
Help us to believe.
2. Counting Stars - Andrew Peterson
What can I say? Andrew continues to unfold the Gospel to the listener in beautiful ways, using creation and both the Old and New Testament effortlessly to draw the reader 'from glory to glory,' gazing at the face of Christ that grows ever clearer. I can't possibly say how many ways this album (much less Andrew's broader spectrum of work) has blessed me; they increase every time I listen to them. The album opens with

Many Roads,

a song about the Providence of God in drawing the listener to the singer for the mutual encouragement of both, hones in on the faithfulness of God to believers and their children. He delves into a bit of personal testimony, sings a lullaby to his daughter, prays

let the great God of my fathers be the great God of my children still...

I won't try to summarize the whole album; it simply bends ever nearer, straining to see through the darkened glass, beckoning the listener with it to the feet of Christ. He is our God; in Him, we have a royal Priesthood, a hope, a sure and strong presence in the blackest hole of a dismal world. Yet he is not satisfied with simply beholding as through a glass with the eyes of faith, and the last track explodes with the longing for Christ's return, when we shall see Him with our physical eyes:


Mighty God, how I fear you,
and I long to be near you -
How long? How long is this the song that we sing?
How long until the reckoning?
I know that I don't know what I'm asking,
but I long to look You full in the face.

1. The Light Meets the Dark - Tenth Avenue North
(It'sfivedollarsonAmazonalsogobuyitthismonth.Srsly.)

So... yeah. If you didn't see this one coming, "I shall think you a greater simpleton." I shan't sport with your intelligence by squeeing, but this album joined me midway through my little excursion up north and just ... as the inside of the album cover so aptly put it, the point of the album is to keep hammering the message of the Gospel home - and that's the one thing we all need hammered into our brains the most, because it's the one thing we're most prone to forget. The first album (incidentally also $5 on Amazon this month; that place really gets things right once in a while) was crafted to send out the essence of the Gospel of Jesus Christ: that God's love is continually demonstrated towards me, a sinner, not in giving me that one thing I think I need to be happy, but in giving me His own Son to Redeem me even while I was still his enemy. Their second, therefore, is meant to continue that path: the invitation of the Gospel has been accepted. What next? Well... wonderfully, the album answers that question by simply preaching the Gospel. After we're 'saved,' to borrow a much-misused colloquialism, we still need God. Our salvation is utterly dependent on Christ, always. We don't work to gain God's favor in the first place, and there's nothing we can do to keep his favor once we get it. It is only and ever secured in Christ. That's the foundation for the album, but it moves on from there to challenge believers to greater honesty and courage in the gospel. If God doesn't need our righteousness to save us, why do we live like we need our righteousness (particularly in the eyes of others) to be saved?

The opening call is to believers to find healing in brokenness (Healing Begins), which transitions into the reminder that

God

is the one who saves the lost (Strong Enough to Save). The third track reminds the believer that the source of their identity is in Christ's recreating work in their lives, not in their own past successes or failures, while The Truth Is Who You Are (quite possibly my favorite track of the lot) points quite clearly to Who Christ Is.

All The Pretty Things

is the cry of a believer to Christ in the face of temptation, and

On and On

is Christ's response to the believer (and more strongly, I think, the whole Body) stumbling in that temptation.

Any Other Way

, which sits in between the last two, talks about the true nature of Love - our love for each other, and God's love for us - and how that Love has to involve pain and hurt for it to be truly enough.

Hearts Safe (A Better Way)

is something of an unanswered question from the believer to God in the face of a loved one rejecting the Gospel.

House of Mirrors

again calls the believer to transparency and honesty in Christ rather than self-perfecting in self-righteousness.
Empty My Hands

is a beautiful song, as I'll describe below, and as you listen to it you're quite sure the album couldn't finish on a better note - but then, at the very end,
Oh My Dear provides a personal story from one of the band's members describing the practical application of the previous ten tracks.

I do not mean to discredit those who have taught me in my life or imply that God did not use them as teachers. But I think in many respects music is a gentler and more impressive instructor, and I have learnt the gospel not exclusively, but especially, from this band. And perhaps the hierarchy rings true after all, at least down to the last two: because Andrew and Tenth's music has been with me over the last few years, one of the richest examples of the ways God uses the broader church to drown our sick souls in his life-bringing Truth. The lyrics below
from Tenth aren't, as I said, from the last song on their album, but it is for me very like the last track of Andrew's album: the resounding cry of the believer's heart, in honesty and brokenness, in humility over sin and rejoicing in salvation, surrounded by all the heartaches born of a broken world and the messes our own sin creates: Christ, come to us and fill us up!


'Cause my mind is like a building burning down:
I need your grace to keep me - keep me from the ground.
And my heart is just a prisoner of war:
A slave to what it wants, and to what I'm fighting for -
so won't you empty my hands,
fill up my heart,
capture my mind with You?
How long, O Lord?